Empowering marketing and communication through digital strategies – driven by perpetual curiosity.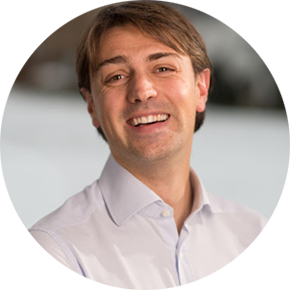 I'm Matteo Grigatti, Italian marketing lover and communication addicted, living in Basel. I have rich experience in both inbound and outbound marketing, with a remarkable focus in digital strategy, brand awareness and lead generation.
Name: Matteo Grigatti
Birthday: 7 March, 1983
Location: Basel, Switzerland
Email: matteo.grigatti@gmail.com
With over 10-years' experience in planning, developing, and implementing marketing communications strategies, I have developed and delivered a broad range of high-quality marketing material (e.g. brochures, powerpoint presentations, landing pages, …).
I have excellent organization and multitasking skills, including handling and leading teams, and collaborating closely with all important internal and external stakeholders. I also have experience in training new employees and also for refresher courses.
Inbound & Outbound marketing
85%
Adobe & Office Packages
85%
Google Ads & Social Media
80%
2018 - 2019
Master in Digital Business Strategy
MIT Sloan School of Management
2014 - 2018
Master of Business Administration (MBA)
University Of Roehampton
2013 - 2014
Master in E-commerce, Social Media & Digital Marketing
Digital Coach - Milan
My Professional Background
2019 - now
Marketing Manager
Genedata AG - Basel, Switzerland
2018 - 2019
MarCom Team Leader
Chemspeed Technologies AG - Switzerland
2013 - 2018
Marketing Communication Manager / Media & Digital Marketing Manager
Hamilton Robotics - Switzerland
2012 - 2013
Communication Manager
Malta Institute Of Management - Malta
2009 - 2013
Web Site Manager & Press Officer
Pallacanestro Biella - Italy
2006 - 2012
Journalist & Live Commentator
Il Biellese & Radio City - Italy
2018-2015
Sales Manager & Vocational Trainer
Domovip Europa - Italy
I had the pleasure to work with Matteo for several years at Hamilton Bonaduz AG. Matteo is a skilled MarCom professional who brings innovative thinking and an extremely positive and constructive approach to the work environment, just like the team he manages. He works very hard and he constantly shows the highest commitment to the tasks assigned to him. I definitely recommend Matteo to anyone interested in developing effective communication strategies.
Guido Meneghini
Vice President Robotics - Hamilton Bonaduz AG
Matteo is a brilliant and innovative manager, always working towards the objective of the company. I hired Matteo and during the 2 years we worked together we were challenged continuously with timeline and resources issues. He was a real asset: his outstanding graphic capabilities coupled with his deep knowledge of the digital marketing was crucial. I highly recommend Matteo not only for his hard working efforts and his brilliant digital and marketing communication skills, but also because he is easy going and extremely pragmatic in his approaches.
Mario Arangio
Head of Development - Swiss Caps AG / Aenova GmbH
Matteo is a rigorously organized, naturally creative thinker with superior social capabilities. He has a wealth of diverse knowledge and experience which make his Marketing team strong and successful. I was impressed by his dedication to direct reports, and by the speed / quality of his deliverables. He is great value to any team.
Matteo Prezzi
Business Development Director - Chemspeed Technologies AG
In just a few months you brought us a new wave of ideas, you proactively communicated with us in the sales team to reinject the right information into our marketing communication. You re-actualized/reshaped our presentation package. Also your very positive attitude every day made it a real pleasure to work with you!
Frédéric Meistermann
Head Sales Operations - Chemspeed Technologies
Phone Switzerland
+41 79 150 70 68
Email address
matteo.grigatti@gmail.com
Phone Italy
+39 347 96 81 860
Location
Basel, Switzerland
"Ever tried, ever failed. No matter. Try Again, fail again, fail better"
by Samuel Beckett